Apple SSD Drive Data Transfer Solutions
Having the right drive enclosure, adapter or cabling can ease data migration or be useful for testing and formatting your new Mac SSD. An external drive enclosure with FireWire, USB and/or Thunderbolt interfaces or a multi-interface USB transfer cable may come in handy for your Mac's SSD upgrade and be useful afterwards to repurpose your original HDD or SSD as an external Apple TimeMachine or backup drive.
How To Clone Your Mac Data Onto An SSD
Two great free utilities that can help transfer your Mac's drive data onto an SSD can be found at
versiontracker.com
:
Carbon Copy Cloner
or
SuperDuper!
-- CLONING IS CRITICAL to copy all the invisible files that make OSX work, retain the proper file permissions - and insure the volume is BOOTABLE for use as a Start Up disk. Highly recommended.
Universal SATA-IDE Transfer Cable
OWC's Popular, Versatile USB Cable


2.5" 3.5" 5.25" Universal Drive Support
Laptop SATA Dual-Interface Case
More versatile - and faster than a simple USB 2.0 laptop drive enclosure - This dual-interface USB + FireWire 400 bus powered portable SATA drive case is worth a bit more for those who want the higher transfer speed of FireWire and it's ability to be used as a BOOTABLE external drive on pre-Intel Mac models that can't start up from USB.
2.5" FW400 + USB 2.0 SATA Case


Dual-Interface Drive Enclosure
ICY-DOCK Slide-In SSD Converter
IcyDock Brilliant, Quick and Simple 2.5" to 3.5" SATA Adapter


Plop in a laptop SATA SSD, Mount it - and Go!
Build Your Own Ultra-Fast Mac SSD RAID From Two Drives
3.5" Form Factor RAID Hard Drive Case for 2 - 2.5" SATA SSD's


Switch Selectable RAID Laptop Drive Enclosure
- Switch selectable RAID modes including BIG (Span), JBOD (Single), Fast (Striping), SAFE (Mirror), SAFE33, SAFE50, Reserved and is SATA I and II 1.5GBPS to 3.0Gbps
SATA Case For Your Old 3.5" Drive
This enclosure might be useful for cloning and installing during an SSD upgrade for Mac Pro towers or G5 iMacs - and afterwards as a backup drive. Combine with an IcyDock 3.5" drive adapter case for mounting and testing your new SSD both in - and out of your computer.
MacAlly 3.5" USB + FireWire 400 + eSATA


Triple-Interface Enclosure Aluminum Mac Pro Style
USB & eSATA Hard Disk Docking Station


2.5" - 3.5" Drop-In Convenience for Formatting, Copying, Cloning
ATA-IDE SSD Interface Adapters
For those exploring SSD upgrades on older G4 iMac or Tower - or perhaps even something crazy like putting an ATA SSD into that trusy old Slot-Load G3 iMac: Here's a cheap drive adapter to convert an IDE solid-state drive such as one of these 2.5" SSD's from Transcend to the standard 40 Pin IDE interface cable in those Macs. Combined with a set of 3.5" drive mounting brackets, its a solution.
Belkin Drive Conversion Kit


ATA Interface Converter + Power + Brackets + Screws
Then add This ATA Solid-State drive:
Transcend 32GB IDE MLC SSD

SSD's For Older Parallell PATA-IDE Interface Macs
Modern computers adopted SATA interfaces to move beyond ATA 100/133 interface speed limits. SATA took over and was needed to keep up with the 150 Mbps and greater read speeds of current SLC and MLC flash drives. However, SSD drives with ATA/EIDE interfaces do exist for older G3 and G4 Macintosh systems. These may be worth exploring, but for most, buying a VERY FAST conventional ATA drive at 7200+ RPM with a large cache may be a better choice. MTron and SuperTalent in particular offer MacBook AIR 1.8" form-factor drives.
Super Talent PATA-IDE MasterDrive EX2 Series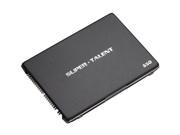 MLC & SLC Versions
SSD's Drives From Samsung, OCZ, Intel, Super-Talent, Crucial, Corsair, Patriot, Transcend and More
Solid state drive manufacturers (as well as Apple) are making an effort to ensure OSX is not only compatible, but optimal for SSD use. Many of these manufacturers qualify their drives for OSX - and will state so in their Tech specs and System Requirements. SSD firmware does play a part in overall performance and Read-Write reliability. However firmware updates - if any - can often only be done running Windows based firmware upgrade utilities. Those with dual-boot Mac/PC environments may be able to update their SSD using VMWare, BootCamp or Parallels.